I find it a bit tough to nap when I am traveling by car in India. There is too much to see and even if I close my eyes for a moment, a sudden lurch or rapid swerve of the automobile, and I'm wide awake, curious, and sometimes alarmed, about what is going on around me. When my family first moved to India in 2004 I realized I couldn't spend much time watching oncoming traffic. Every driver plays the chicken game, refusing to move out of the way of oncoming traffic until the last possible minute. Whether they are supposed to be on the left side of the road and decide instead to drive on the right side of the road – this is not the issue. Who has the biggest, loudest horn matters more in the end. So, to stay serene in all driving situations, I look to the left or the right and I am never disappointed.  Check out a few of my favorite India road trip photos from my March 2015 trip.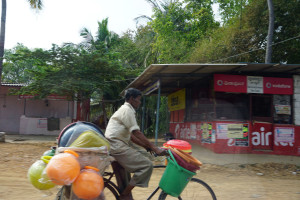 Bicycle balancing is amazing in India. I have seen panes of glass and stacks of eggs balanced on a bicycle here. Like this man, balancing assorted plastic containers and still managing to maneuver through traffic.
My driver, Antony, and I passed carts pulled by oxen which were filled with the harvested sugar cane.
 Other times we were sharing the road with the loaded carts.
Often an incredible amount of stuff is packed into an unbelievably small space.   And, more often than not, people are back there, too. 
There are so many more amazing pictures to take in India. You can create your own special photo memories with the Spirit Guided Journeys trip, departing for southern India on October 30, 2015.
Bring your camera and your sense of adventure and join the journey.
Blessings and Namaste,
Kelley