I recently returned from a personal journey to India and while I was there,  I headed 140 kilometers southwest of Bangalore to the city of Mysore. Mysore is a beautiful city and one of the stops for the next Spirit Guided Journeys trip in the fall of 2015.
I know, from previous trips to Mysore, that it is important to get out of Bangalore early and miss the worst of the traffic. My driver, Antony, and I, pulled out of Whitefield at 6:15 a.m. on a Sunday morning, while seemingly most of the eight million plus residents of the Bangalore metropolitan area were sleeping. Our drive was peaceful with few horns interrupting the calm of the morning. I finally got a perfect shot of the towering  statue of Hanuman  as we drove south out of the city.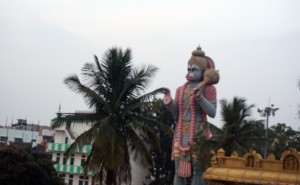 Once on the Bangalore/Mysore highway, Antony and I stopped numerous times for photo opportunities and I discovered so many things along the route that I had never really noticed before. Antony is a superb tour guide. He took a quick deviation early in the trip  to show me this Ganesh Temple, a place I definitely want to take the SGJ group in November.
Traffic increased as the time for breakfast drew nearer, and finally we stopped at the Kamat restaurant, a bustling spot on the right side of the highway and the home of the most amazing dosas ever. I'd been waiting for this stop since 6:15.
Antony joined me for breakfast and he had Idly, made from a batter of fermented rice and urad dal (small lentil-like beans), while I enjoyed a masala dosa, a pancake-type creation, also of fermented rice and urad dal batter, filled with spicy potatoes.
We also had strong, hot, milky coffee and a chance to take a breather in the lush surroundings. Definitely a stop for the SGJ group. I'm looking forward to my next dosa already.
After breakfast, the journey continued. We stopped to watch sugar cane farmers harvest their crops, to marvel at the oxen pulling the plows through the wet rice paddy fields, and so that I could buy a bunch of lotus blossoms from one of many flower sellers along the road.  Antony then took me to the Government silk cocoon auction house, a huge room filled with long tables heaped with silk worm cocoons.
The state of Karnataka, home to Bangalore and Mysore, is responsible for 70% of India's mulberry silk production, and most of the silk is grown in the Mysore region. Mulberry silk refers to the fact that the leaves of the white mulberry are the sole food of the silkworms. The stop was interesting – and I've added it to the list of things to see next fall.
Antony and I made several more stops on the way to Mysore and I will detail all those stops in a later post. I have to say it was a great day – a long day – but a really great day. And it wasn't over even after we got to town. We still had more to see and plenty of afternoon left. But before we headed back out into Mysore proper, I needed a break – time to refresh and recharge. And I couldn't have asked for a better place to rest than my room at the Fortune JP Palace Hotel in Mysore. This is the hotel I've chosen for the SGJ stay because it is very comfortable, the staff is friendly, and it is well-located within an easy commute of everything to do and see in Mysore.
Come along for the adventure to Mysore with me next fall, 2015 and join the Spirit Guided Journeys adventure to southern India. I'd love to have you along for the journey.
Blessings and Namaste,
Kelley