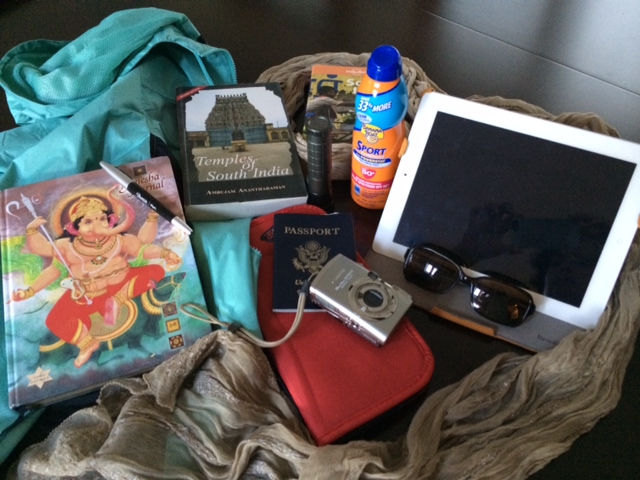 Only one month and the first Spirit Guided Journeys (SGJ) trip to southern India departs. All the months of preparation, from booking hotels to engaging speakers, to finalizing the transportation details are complete. Now it's time to attend to final details and pack the suitcases. This is about the time I start to make a list of stuff to pack and last minute things to get finished. Here's my list. I hope it helps as you get ready to go.
þ Indian Visa
þ Copy of Itinerary (Got to have that to leave India)
þ Passport (Valid for more than 6 months from date of trip)
þ Trip Insurance and proof of insurance
þ Camera (for those candid shots)
þ Sunglasses 
þ Bug Spray and Sunscreen (No bites, no burns)
þ Small Flashlight or torch (cause the power can go out)
þ Journal (What a trip! You'll want to write it down)
þ Medications needed, vitamins, pain tablets
þ Notify credit card companies of out of country credit card/ATM/Debit card use
þ Phone with international calling plan or IPad or Tablet with Skype installed (to talk to the folks back home)
þ Snack bars for the plane and for travel (just in case stuff)
þ Luggage requirements verified (how many bags can you have? And remember, pack light)
þ Comfortable, lightweight clothing
     þ Pants
     þ Cropped trousers
     þ Skirt or nicer pants for a dressier dinner or theater visit
     þ T-shirts and blouses that are lightweight (one with sleeves for temple visits)
     þ Scarf to cover shoulders in temples and ashrams
     þ Yoga stuff (mats will be provided)
     þ Workout clothes if using the gym
     þ Jacket, rain jacket, or light sweater for cooler evenings and possible showers
     þ Swimsuit
     þ Comfortable shoes for walking and a pair of comfortable sandals
     þ Easy shoes to slip off and leave outside of temples and ashrams
þ Most importantly, a spirit of adventure because we are going to have fun.
Blessings and Namaste,
Kelley