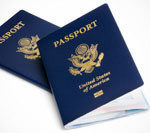 On this page you will find some guidance as you begin to prepare for the trip to India.
Getting ready for a trip to India takes some time and a little more planning than other trips will take. The information below will help you organize yourself as you get ready to depart for your spiritual journey to India.
First Things First – Travel Documents
You will need:
A valid Passport
An Indian Visa
A copy of your itinerary – Make a copy of your itinerary and bring it with you. Indian officials require it before you enter the airport at the time of departure.
Passport – To enter India, you will need a valid passport with more than 6 months from the date of travel remaining until it expires. Be certain you calculate this time frame accurately. You will most likely not be allowed to leave the US or enter India with a passport so close to expiration. You will need to send a copy of your valid passport to me no later than September 15, 2014.
Visa – To enter India you will also need a valid visa. Visas are issued for either 6 months or 5 years and there is a difference in cost for each. You will need to send a copy of the visa page in your passport to me no later than September 15, 2014.
CBIT – Will obtain an Indian visa for you upon your completion of required applications and submission of your valid passport. This is the company I used for my visa. There are other companies out there. You can check around for differences in cost. I found CBIT completed the work swiftly and were trustworthy but, if you know of other options and would prefer to use a different company then do so. You must feel comfortable with the company you choose as you will send your passport in with your application. Spirit Guided Journeys L.L.C.  will not be responsible for inability to obtain proper visas or passports.
Fees with CBIT (as an example)
6 month visa:
CBIT standard processing fees – $99
Consular Fees – $67.70
Total – $166.7
5 year visa:
CBIT Standard processing fees – $99
Consular Fees – $157.7
Total –  256.7
Time Frames – If you need to procure a passport you must do this first. Only with a valid passport can you then apply for a visa. Check the links below for instructions on obtaining or replacing a United States passport. The fee for a passport is $135.
If obtaining a passport for the first time:  http://travel.state.gov/passport/get/first/first_830.html
If renewing a passport:
http://travel.state.gov/passport/renew/renew_833.html
The links above will also have links to find your local passport office. If you are applying for the first time you will need to appear in person.
Passport Photos – If you must first get a passport or renew your existing passport you will need to have two passport photos. You will also need two passport photos to send in with the visa application.
Be Sure to Make Copies of All of Your Travel Documents and Keep the Copies Separate from the Originals. Send copies to me when you send your completed forms and deposit for the trip. Do this in case any of your travel documents are lost or stolen and you need to get replacements. The nearest US Consular Office to Bangalore is in Chennai.
Make a copy of your itinerary and bring it with you. Indian officials require it before you enter the airport at the time of departure.
FLIGHT ARRANGEMENTS
All travelers will be expected to make his or her own travel arrangements into and out of India. It is my recommendation, that you plan to leave the United States, or your place of departure, in order to arrive in Bengaluru on Sunday, October 26, 2014. Be sure that Bengaluru International Airport is your destination. We will leave India on Saturday, November 8, 2014, departing from Chennai International Airport. There are several airlines that fly into India. I would avoid stopping in Mumbai or Delhi. It is worth the extra money to fly directly into Bangalore. Flying into an Indian airport before landing at Bengaluru will force you to change gates and terminals. Your ongoing flight will now be domestic from an Indian city into another Indian city. You will have to collect your bags at the international terminal, re-check them at the domestic terminal, and go through security again. This is a huge hassle and one I suggest you avoid. It could also cause you to miss your connecting flight*.
From the airport in Bengaluru I will have arranged to have taxis meet us from the hotel where we will be staying. The hotel will use signs with the guest names on them to find you.
Spirit Guided Journeys L.L.C. is not responsible for any mix-ups with flights, or missed activities due to flights.  We will do our best to accommodate you, but cannot make any promises.
A Visit with the Travel Doctors
First, here are some links to interesting articles I found giving the reasons why Americans need to consider vaccinations before traveling. I realize this is a controversial subject for many. I am only providing the information. It is up to you to make your own choices about whether or not to be vaccinated before your trip; however, Spirit Guided Journeys L.L.C. will not be responsible for any illnesses caught from lack of vaccination.
http://www.nytimes.com/2011/07/31/travel/vaccinations-for-traveling-abroad.html?_r=0
http://www.cdc.gov/features/travelprotection/
http://goindia.about.com/od/planningyourtrip/bb/before-india.htm
I suggest reading the information in all the above sites. It won't take long and it explains some of what you will encounter in India. The information also gives you an idea of why it is important to visit a travel doctor and discuss vaccinations and anti-malarial medication before you go. Please, whatever you do decide, ask the doctor for recommendations as to staying safe while visiting India.
---
* Please be advised that Spirited Guided Journeys is not responsible for and additional costs incurred as a result of missed flights.  If the passenger is not able to join the group at the intended time, it is his or responsibility to cover the costs of meeting with the group, wherever they may be.