In October, when we sojourn to southern India, one of the people we will have the pleasure of meeting and working with is Poonam Illuri. Poonam and her farm are well known in Whitefield spiritual and artistic circles. I first ventured to the Illuri farm to practice yoga on Tuesday mornings in 2005.
Poonam and I became friends and spoke many times of bringing people to her lovely property for yoga and spiritual workshops.
In the last year, Poonam has opened Gaia Bangalore, a haven for spiritual seekers and artistic discovery. And in this year I have started Spirit Guided Journeys. Our paths intersect so often and it is with great joy that I look forward to sharing time with Poonam in October.  But enough from me. I will let Poonam introduce herself to you. 
The seeds for Gaia have always been in my subconscious.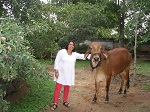 The name is from the Mother Earth Goddess in Greek mythology, as well as from the Gaia Hypothesis.
Gaia is a place where Art, Yoga and Spirituality come together. A place for connecting with our higher selves.A haven, where we are safe and have the freedom to discover ourselves.
My name is Poonam and I have lived in Bangalore ,India, for the past 14 years.Before that,my family and I lived all over the world…Cyprus, Dubai, Singapore, Sweden, Switzerland, Turkey and India.I feel at home, wherever I am,but with Gaia, I feel rooted.
I have been practicing yoga for the past 18 years. At first,it was the physical aspects of yoga, that seemed important.One day ,8 or 9 years back in a yoga class in Trikonasana, I experienced silence.When I came out of the posture, I realized that the class had moved onto other postures…and I noticed that I was feeling calm , extremely happy peaceful, aware and energized…all at the same time. I was hooked.
To deepen the silence,I went for vipassana to Thailand…and I would recommend that wholeheartedly.I have learnt Reiki, Pranic healing,EFT,energy healing ,
I believe in the teaching of Sri Aurobindo and the Mother, of Pondicherry,as well as the Isha Yoga Foundation of Coimbatore.
I teach art…mainly mosaics and wooden block printing, here at Gaia. we sit under the Mango trees, sip chai and create.We also discuss and share a lot.
I am married, have 2 daughters, 3 dogs and 2 cows. I am a textile designer by profession.